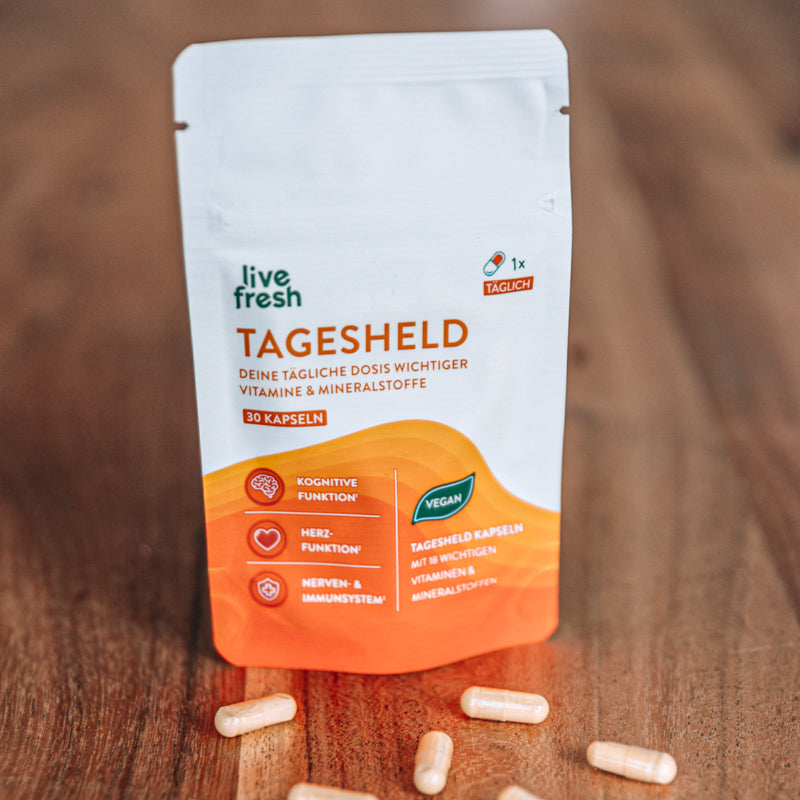 Tagesheld - Daily Vitamins - 18 essential vitamins & nutrients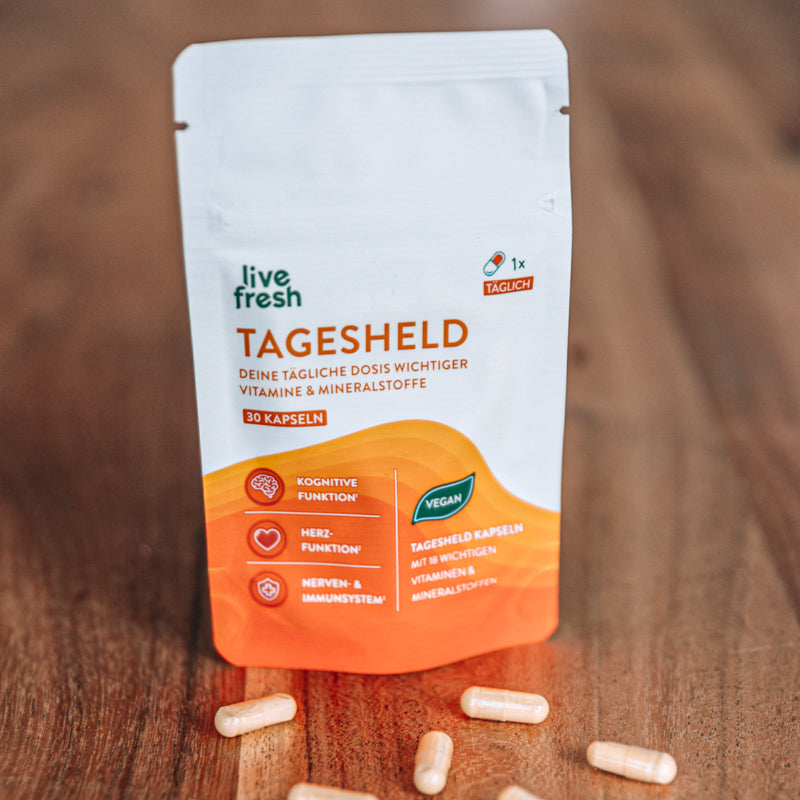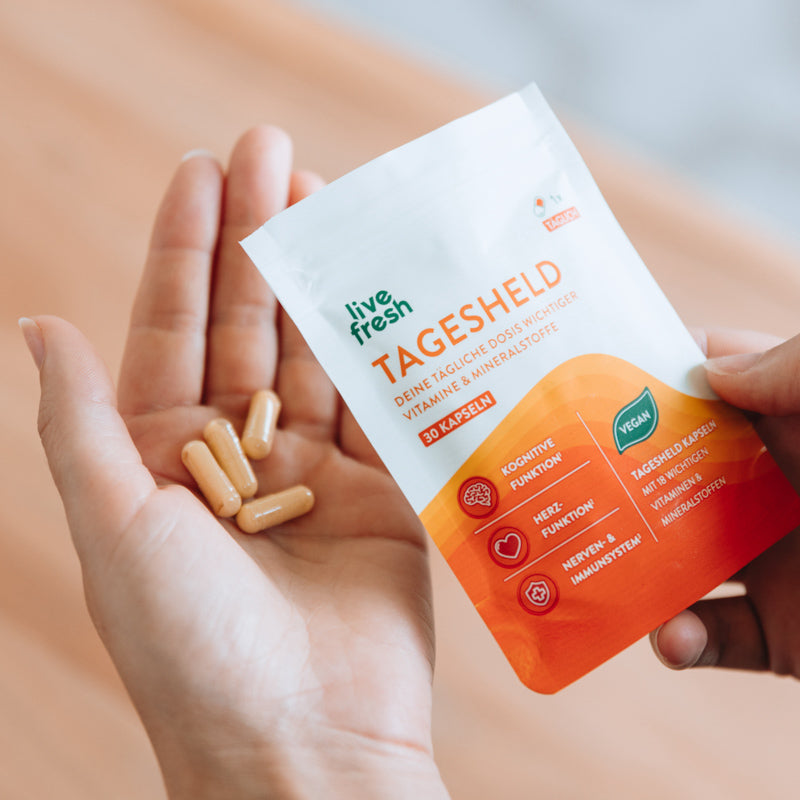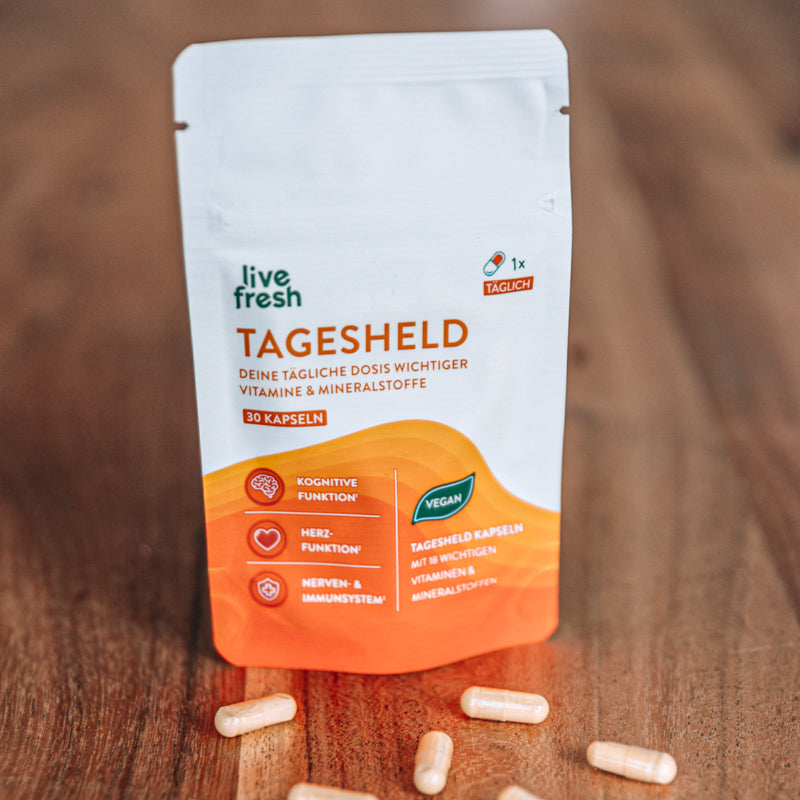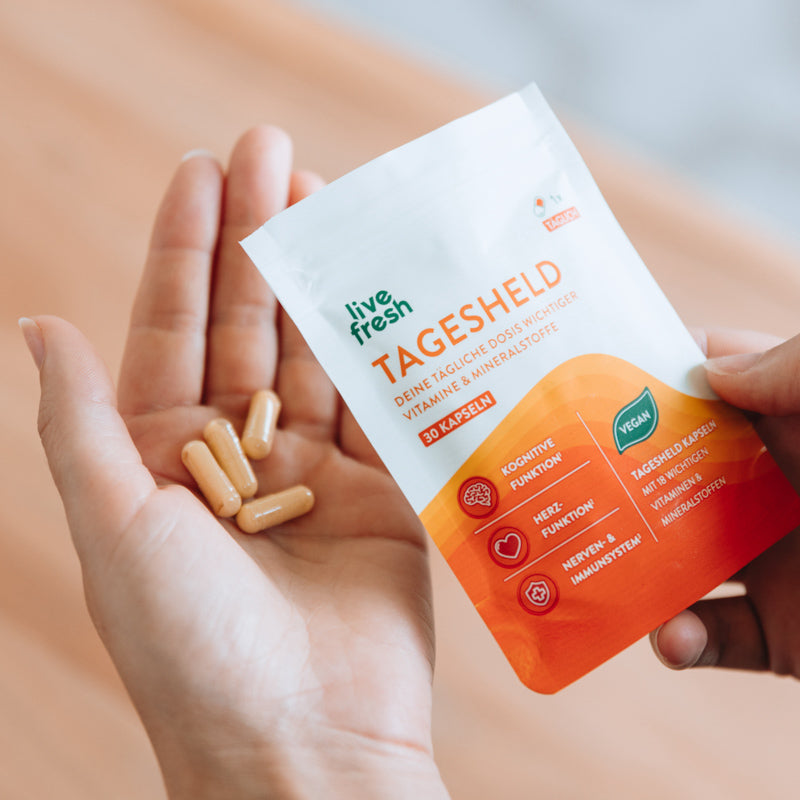 Füllstoff mikrokristalline Cellulose, Kapselhülle (Hydroxypropylmethylcellulose), Ascorbinsäure, Zinkgluconat, DL-alpha-Tocopherylacetat, Eisensulfat, Mangangluconat, Nicotinamid, Calcium-D-Pantothenat, Pyridoxin HCl, Kupfergluconat, Thiaminmononitrat, Riboflavin, Retinylacetat, Pteroylglutaminsäure, D-Biotin, Chrom-III-chlorid, Natriumselenit, Cholecalciferol, Cyanocobalamin. 


Durchschnittliche Nährwerte:

Pro Tagesdosis*, % NRV** 
Vitamin A:  400 µg,  50 % 
Vitamin D:  20 µg,  400% 
Vitamin E:  12 mg,  100 % 
Vitamin K : 75 µg,  100% 
Vitamin C : 40 mg,  50 % 
Thiamin:  1,1 mg, 100 % 
Riboflavin:  1,4 mg,  100 % 
Niacin : 8,0 mg, 50 % 
Vitamin B6:  1,4 mg,  100 % 
Folsäure:  200 µg,  100 % 
Vitamin B12:  2,6 µg,  104% 
Biotin:   50 µg,  100 % 
Pantothensäure:  6,0 mg,  100 % 
Zink:  5,0 mg, 50 % 
Kupfer:  0,2 mg,   20 % 
Mangan:  1,0 mg,  50 % 
Selen:  27 µg,  49 % 
Chrom:  28 µg,  70 %  

*1 Kapsel  
** Nährstoffbezugswerte der Referenzmenge 
Die Packung enthält 30 Portionen 
Nettofüllmenge: 11,2 g (30 Kapseln) 

Nahrungsergänzungsmittel mit Vitaminen und Mineralstoffen

Kognitive Funktion: Zink trägt zu einer normalen kognitiven Funktion bei

Herzfunktion: Thiamin trägt zu einer normalen Herzfunktion bei

Nervensystem: Kupfer, Vitamin C, Vitamin B1, B2, B3 und B6 tragen zur normalen Funktion des Nervensystems bei

Immunsystem: Vitamin C, Vitamin A, Vitamin B12, Vitamin B6, Vitamin D, Selen und Zink tragen zur normalen Funktion des Immunsystems bei Verwendung der Tageshelden-Kapsel
Tagesheld - Daily Vitamins - 18 essential vitamins & nutrients
Regular price
Sale price
29.95€
Unit price
per
Deine tägliche Dosis wichtiger Vitamine & Nährstoffe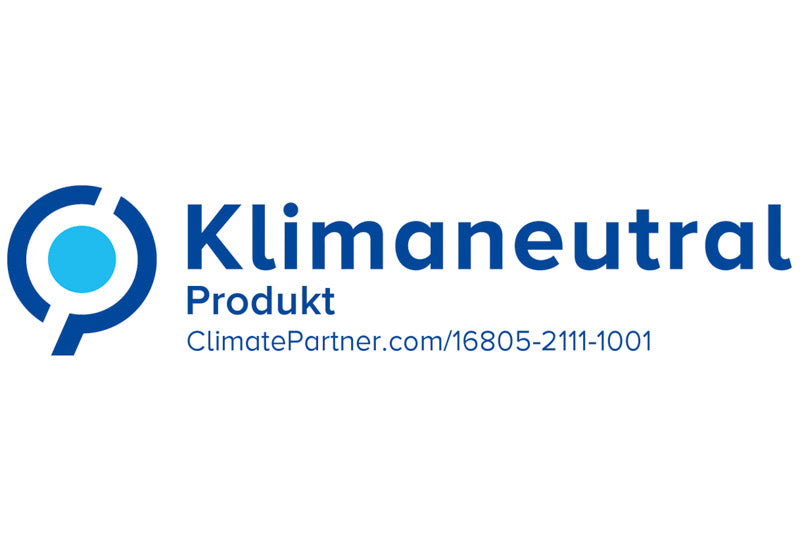 In stock - with you in 1-2 working days

100% recyclable packaging.
Refrigerated shipping with DHL & DPD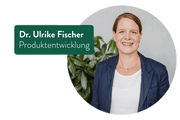 From the nutritionist Dr. Ulrike Fischer on scientific basis developed.
Get your daily dose of essential vitamins and minerals with Daily Hero capsules. They support your nutritional goals and promote your well-being by boosting your metabolism and strengthening your cognitive and physical functions.
Füllstoff mikrokristalline Cellulose, Kapselhülle (Hydroxypropylmethylcellulose), Ascorbinsäure, Zinkgluconat, DL-alpha-Tocopherylacetat, Eisensulfat, Mangangluconat, Nicotinamid, Calcium-D-Pantothenat, Pyridoxin HCl, Kupfergluconat, Thiaminmononitrat, Riboflavin, Retinylacetat, Pteroylglutaminsäure, D-Biotin, Chrom-III-chlorid, Natriumselenit, Cholecalciferol, Cyanocobalamin. 


Durchschnittliche Nährwerte:

Pro Tagesdosis*, % NRV** 
Vitamin A:  400 µg,  50 % 
Vitamin D:  20 µg,  400% 
Vitamin E:  12 mg,  100 % 
Vitamin K : 75 µg,  100% 
Vitamin C : 40 mg,  50 % 
Thiamin:  1,1 mg, 100 % 
Riboflavin:  1,4 mg,  100 % 
Niacin : 8,0 mg, 50 % 
Vitamin B6:  1,4 mg,  100 % 
Folsäure:  200 µg,  100 % 
Vitamin B12:  2,6 µg,  104% 
Biotin:   50 µg,  100 % 
Pantothensäure:  6,0 mg,  100 % 
Zink:  5,0 mg, 50 % 
Kupfer:  0,2 mg,   20 % 
Mangan:  1,0 mg,  50 % 
Selen:  27 µg,  49 % 
Chrom:  28 µg,  70 %  

*1 Kapsel  
** Nährstoffbezugswerte der Referenzmenge 
Die Packung enthält 30 Portionen 
Nettofüllmenge: 11,2 g (30 Kapseln) 

Nahrungsergänzungsmittel mit Vitaminen und Mineralstoffen

Kognitive Funktion: Zink trägt zu einer normalen kognitiven Funktion bei

Herzfunktion: Thiamin trägt zu einer normalen Herzfunktion bei

Nervensystem: Kupfer, Vitamin C, Vitamin B1, B2, B3 und B6 tragen zur normalen Funktion des Nervensystems bei

Immunsystem: Vitamin C, Vitamin A, Vitamin B12, Vitamin B6, Vitamin D, Selen und Zink tragen zur normalen Funktion des Immunsystems bei Verwendung der Tageshelden-Kapsel
Why you need one Tagesheld per day.
The Daily Heroes contain a variety of important vitamins (A, C, D, E and B complex) that support essential functions for a healthy body. These nutrients support cognitive function¹, heart health² and the immune and nervous systems³.
Made in Germany.
✔ 100% Vegan 
✔ Optimal supply of 18 vitamins and minerals 
✔ High dosage and only one capsule per day
✔ Produced in Germany 
✔ Without allergens 
✔No artificial colors or fillers 
One capsule daily.
Whether you want to manage your everyday life, improve your athletic performance or simply support your health - our Tagesheld capsules are the perfect supplement for your lifestyle.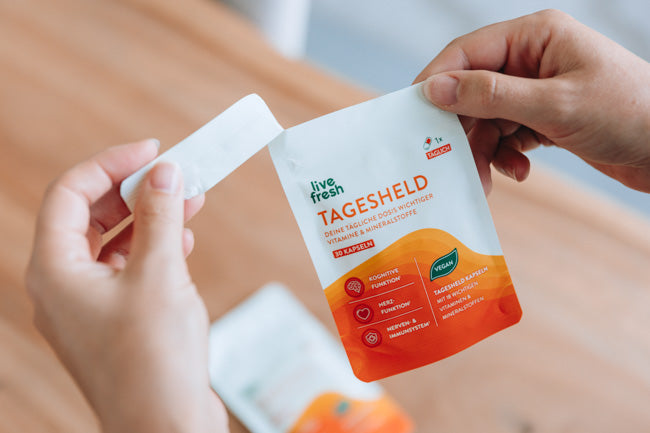 Multivitamin capsules for your well-being!
Invest in your well-being. 
With one capsule a day you are optimally supplied with vitamins and minerals. Take 1 capsule daily in the morning or at lunchtime after a meal with a glass of water. 
Frequently asked questions about Tageshelden capsules:
¹ Cognitive function: Zinc for normal cognitive function
²Heart function: thiamine for normal heart function
Nervous system: copper, vitamins C, B1, B2, B3 and B6 for normal nervous system function
Immune system: vitamin C, A, B12, B6, D, selenium and zinc for normal immune function